The Little Princess
Found with
N/A
Find Target
N/A
Location
Auto-obtained
Chapter
The Little Princess
Purpose
Plot
| | | |
| --- | --- | --- |
| " | A mysterious book received from the boy in white clothes. | " |
The Little Princess is a storybook given to Jennifer by "Joshua Wilson" (probably Wendy disguised as Joshua) on the bus at the very beginning of Rule of Rose.
Unlike the other storybooks, the text in the The Little Princess is not all there to begin with. When Jennifer first receives the book, all the pages are blank, save for the cover. However, when she is off the bus and examines the book again, she can read the first part of the story. As the game progresses, more of the story is gradually revealed.
Transcript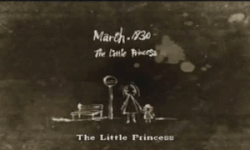 Once upon a time, there was a precious little girl.

Her friend, the Princess of the Red Rose, was always at her side.

Then one day, her mummy and daddy died suddenly.
The Princess, too, disappeared, leaving the girl all alone.

And the poor little girl was sent away to a strange house.
At her new home, the Aristocrat Club lived by the Rule of Rose.
But the girl found herself very much alone,
until she discovered a wonderful new friend.

The girl and her companion obeyed the Rule of Rose.
For in the Aristocrat Club, the Rule of Rose was absolute, as was the word of the Princess of the Red Rose.

The girl obeyed the Rule of Rose, but the Countess refused to like her.
The girl obeyed the Rule of Rose, but the Baroness punished her still.
The girl obeyed the Rule of Rose, but the Duchess taunted her anew.

And yet, the girl and her friend were still faithful to the Rule of Rose.

The Princess of the Red Rose found this all very dull.
And so, she issued a Rule of Rose for the final time.

The girl was to sacrifice her very special friend.
And when she did, she became a princess.

A lonely little princess, burdened by the Rule of Rose.
The woeful princess put her memories under lock and key, forever and ever.
Ad blocker interference detected!
Wikia is a free-to-use site that makes money from advertising. We have a modified experience for viewers using ad blockers

Wikia is not accessible if you've made further modifications. Remove the custom ad blocker rule(s) and the page will load as expected.