The Funeral
Found with
N/A
Find Target
N/A
Location
Inner Court
Chapter
The Funeral
Purpose
Plot
| | | |
| --- | --- | --- |
| " | The tale of a girl who buried her beloved friend alive. | " |
The Funeral is a storybook in Rule of Rose. The girl in it is Jennifer and the friend is Brown. The story may tell how Brown died.
Transcript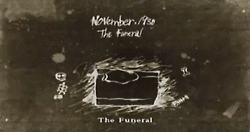 Once upon a time, a girl found a hole in the ground in the yard.

The Little People came out and told her the news.

Today is the day of your funeral.
If you don't like it, then you must sacrifice your friend.

Who wants to be buried alive?

So the girl did what she had to, and buried her best friend.

Well, I wouldn't want to be her best friend!
External links
Ad blocker interference detected!
Wikia is a free-to-use site that makes money from advertising. We have a modified experience for viewers using ad blockers

Wikia is not accessible if you've made further modifications. Remove the custom ad blocker rule(s) and the page will load as expected.