The Clover Field
Found with
N/A
Find Target
N/A
Location
Auto-obtained
Chapter
The Clover Field
Purpose
Plot
| | | |
| --- | --- | --- |
| " | A story about an unlucky girl looking for a clover. | " |
The Clover Field is one of the storybooks given to Jennifer by Gregory M. Wilson in Rule of Rose.
The story gives Jennifer clues to the location of the keys that are for the locked doors in the Guest Sector of the Airship.
Transcript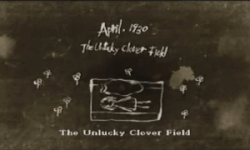 Once upon a time, there was an unlucky girl.

All she wanted was to be happy. So she went to a clover field.

She found a one-leaf clover, but she dropped it on the road.

She found a two-leaf clover, but it slipped into the shadows.

She found a three-leaf clover, but a witch hid it away.

She wanted to find a four-leaf clover, but she was too unlucky.
External links