Sketch Piece
Found with
N/A
Find Target
Torn Sketch
Location
Room 26
Chapter
The Bird of Happiness
Purpose
Needed to complete Family Sketch
The Sketch Piece is an item found in Room 26 after using the hint provided by the Diet Chart. It finds another piece, the Torn Sketch, and is needed to complete the Family Sketch.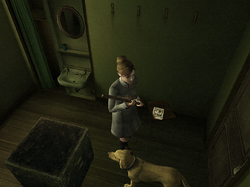 Ad blocker interference detected!
Wikia is a free-to-use site that makes money from advertising. We have a modified experience for viewers using ad blockers

Wikia is not accessible if you've made further modifications. Remove the custom ad blocker rule(s) and the page will load as expected.