Rag Princess
Found with
N/A
Find Target
N/A
Location
Sector 8 Cargo Bay
Chapter
Rag Princess Sews
Purpose
Plot
| | | |
| --- | --- | --- |
| " | The tale of a girl who became the Rag Princess. | " |
Rag Princess, also known as Rag Princess Sews, is a book Jennifer obtains in Rule of Rose.
It depicts Amanda as the Rag Princess, the other girls of the Aristocracy as her stepsisters, and Jennifer as the Rag Princess's friend who wears the ash gray clothes.
Transcript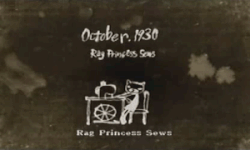 Once upon a time, there was a girl who sewed rags, day in, day out.
The stench of the rags seeped into her clothes.

Her stepsisters wore beautiful dresses and went to the ball.
The girl stayed at home and her jealousy festered.

One day, a fairy godmother came, cast a spell on the girl, and said,
"Sew yourself an ash-grey dress. Then, you can go to the ball like your stepsisters!"

The girl patched together the sooty rags, and that's how she became the Rag Princess.
A very stinky Princess indeed.
She stunk up the whole town, in fact.

No girl who stunk so would be allowed into the ball.
I'll make that girl wear this awful dress myself!

And thus, the Rag Princess and the girl in the rag dress became play pals.
External links