Master Wrench
Location
None
Chapter
None
Strength
High
Range
High
| | | |
| --- | --- | --- |
| " | It's a regular ol' wrench named "Master" just for kicks... | " |
The Master Wrench is a weapon in Rule of Rose, available only through hacking. It seems it was supposed to be used alongside a robot costume.[1]
Code
This code works in PCSX2 for the North American version of the game. Hold L1, L2 and L3 and it will appear in the top left corner in the inventory.
patch=1,EE,D030831C,extended,0000FAFF
patch=1,EE,2079B9C8,extended,00010B35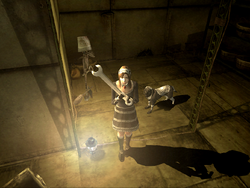 Ad blocker interference detected!
Wikia is a free-to-use site that makes money from advertising. We have a modified experience for viewers using ad blockers

Wikia is not accessible if you've made further modifications. Remove the custom ad blocker rule(s) and the page will load as expected.