Family Sketch
Found with
N/A
Find Target
N/A
Location
Central Stairway C
Chapter
The Bird of Happiness
Purpose
Unlocks third box: Family
| | | |
| --- | --- | --- |
| " | Daddy + Mummy + Daughter equals ? | " |
The Family Sketch is an item completed in Central Stairway C with the help of the Sketch Piece and Torn Sketch. It gives the hint to unlock the third box "Family": 112. Jennifer then finds the News Article.
The sketch depicts a red bird, a green bird and a yellow bird added together to form the code. Examining the walls of the 2nd Passenger Corridor will reveal the numbers for the birds:
red bird = 55
green bird = 45
yellow bird = 12
55 + 45 + 12 = 112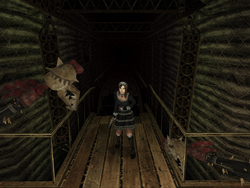 Ad blocker interference detected!
Wikia is a free-to-use site that makes money from advertising. We have a modified experience for viewers using ad blockers

Wikia is not accessible if you've made further modifications. Remove the custom ad blocker rule(s) and the page will load as expected.