Boarding Pass
Found with
N/A
Find Target
N/A
Location
Rickety Shed
Chapter
The Little Princess
Purpose
Unlocks path to orphanage
| | | |
| --- | --- | --- |
| " | A small slip of paper with "Boarding Pass" written on it. | " |
The Boarding Pass is the first item in Rule of Rose. Jennifer finds it in the Rickety Shed in the first chapter of the game along with the Dog Collar. She must then go around the mansion where she will find a door next to a slot with the words "NO ONE ALLOWED WITHOUT A PASS" over it. The player must then use the pass on the slot, after which, the door will open and the mansion is accessible.
The pass appears as a small rectangular piece of slightly faded paper with the words "BOARDING PASS" and "RED CRAYON ARISTOCRATS" written on it in crayon. A fish representing the airship is also drawn on the paper, along with a rose.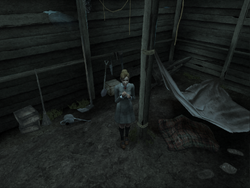 Ad blocker interference detected!
Wikia is a free-to-use site that makes money from advertising. We have a modified experience for viewers using ad blockers

Wikia is not accessible if you've made further modifications. Remove the custom ad blocker rule(s) and the page will load as expected.