Airship
| | | |
| --- | --- | --- |
| " | The grand airship gracefully rose into the sky, carrying the dreams of a new era. However, its glory was short-lived and abruptly ended by a tragic accident. | " |
The Airship, also known as the Ghost Airship, is a major location in Rule of Rose.
Based on real airships, the airship is a place the children pretend they are on instead of being in Rose Garden Orphanage. The children's fantasy and imagery depicts the airship as a giant koi.
Most of the rooms on the airship are the equivalent to or represent a room in the orphanage (though the layout varies, for example, the Club Room on the same floor as the Sick Room).
Most of the game is set on the airship as opposed to the orphanage, thus the area is a larger explore and there are more places for events to happen.
Jennifer states that she couldn't bear playing Airship with the other children as an airship's fatal crash caused the ill fate of her parents. Jennifer was the sole survivor of this airship crash.
"
The future that people dreamt of never came and was soon forgotten. From the blue skies of hope, it sank into the depths of oblivion. The new life born from it was an existence devoid of hope. It slowly wriggles its large body and stares at the sky with a remorseful look... That's its only purpose.

—Jennifer examining an airship photo in the library in Once Upon a Time

"
Inspiration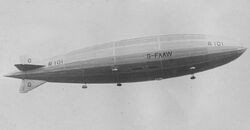 The airship is doubtlessly based off of the fatal R101 flight of 1930. Not only does the airship in the game bear a strong (outer and inner) resemblance to the R101 flight, but it took off in Cardington, 1930, and was set for the location of India. The unfortunate fate of the flight left all but eight people to perish, one of whom, according to the game, was Jennifer.
Gallery
Ad blocker interference detected!
Wikia is a free-to-use site that makes money from advertising. We have a modified experience for viewers using ad blockers

Wikia is not accessible if you've made further modifications. Remove the custom ad blocker rule(s) and the page will load as expected.